Austria as RMS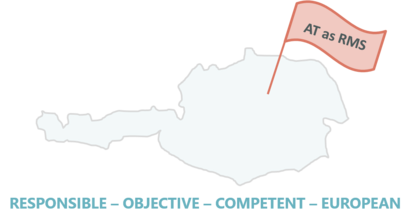 For many years now, Austria has been conducting authorisation procedures for human and veterinary medicinal products at European level as a Reference Member State (RMS). At the beginning of 2019, the 1000th procedure number in the decentralised area for human medicinal products could be assigned; this confirms the confidence and trust that the applicants have in the Austrian authority and therefore repeatedly entrust with the management of their procedures.
The Austrian authority is an expert organisation that has acquired a great deal of expertise and experience in recent years in the assessment of the efficacy, safety and quality of medicinal products and, with this knowledge, actively supports applicants in the approval of their medicinal products.
BASG actively invests in the know-how of its employees. Regular training and networking opportunities at European level ensure that the quality of the assessment remains at a consistently high level.
Additionally, Austria actively participates in shaping relevant committees. Austria is strongly participating in decisions and activities of the Coordination group for Mutual recognition and Decentralised procedures for human/veterinary medicinal products (CMDh/CMDv) and well represented in scientific committees at the European Medicines Agency (EMA), e.g. the Pharmacokinetics Working Party (PKWP), the Pharmacovigilance Risk Assessment Committee (PRAC) and the Scientific Advice Working Party (SAWP).
As to the quality assessors team, Austria is heavily involved within Europe with regards to the assessment of Certificates of Suitability (CEPs) and a key member in the development of the Active Substance Masterfile (ASMF) repository.
Furthermore, the well-established Case Managers ensure prompt processing and smooth communication between applicants, assessors and other NCAs. Especially sensitive procedure phases, e.g. the validation phase and in Decentralised procedures (DCP) the clock-stop phase are supervised proactively.
As reliable and competent interface the Case Managers always keep track of the procedure – with regards to content as well as the timelines – and keep the procedure duration as short as possible. The high number of early (before Day 210) finalised DCPs of the last years reflects the developments in the field of the procedure lead.
The CMDh publishes annual statistics on the various authorisation procedures for medicinal products for human use, which you can find on the CMDh website.
For human and veterinary medicinal products:
Please see DCP/MRP/RUP slots for information on our slot allocating system.
Please see RMS transfer for information on RMS switch.
Page last modified: 30/06/2021